Attributes of Mastery Cards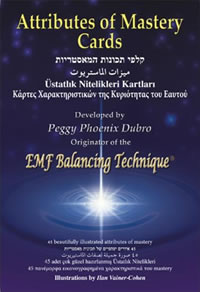 Multiple languages in one set:
English, Spanish, French, Italian, German
OR
English, Hebrew, Arabic, Turkish, Greek
OR
English, Portuguese, Spanish, French, Italian, German, Hungarian, Bulgarian
OR
English, Russian, Estonian, Latvian, Lithuanian
From the beginning of civilization, spiritual mastery has been surrounded in mystery and ceremony. Now the secret is out … you can PRACTICE mastery in your everyday life!
In this box you will find our first offering of 44 attributes of mastery, their definitions, and a booklet with simple instructions to assist as you PRACTICE mastery. I know you already possess these attributes of mastery, and many more. These cards are an invitation to encourage the expression of these attributes, and to increase your ability to co-create an enlightened life in accordance with your innermost, innate, and most wonderful wisdom.
Think of what living in mastery means to you and PRACTICE.
In the Energy of Love.,
Peggy Phoenix Dubro
Order Information:
Order from USA:
Card Deck set: English, Hebrew, Arabic, Turkish, Greek
Order from Europe:
Card Deck set: English, Spanish, French, Italian, German
Card Deck set: English, Hebrew, Arabic, Turkish, Greek
Tel: +49 9547 92 15 91 Email: shop@emfbalance.de
EMF-Shop
Order from South America:
Card Deck set: English, Portuguese, Spanish, French, Italian, German, Hungarian, Bulgarian
Tel: +11 3685-4713, 3681-0222, 99594-8995 Email: hotstock@hotstock.com.br
www.hotstock.com.br
Card Deck set: English, German, French, Spanish
Tel: +54 9 11 50604488, 5411 4769 3621 Email: paolaeacosta@gmail.com
Order from Russia:
Card Deck set: English, Russian, Estonian, Latvian, Lithuanian
Tel: + 7 921 363 3515, +7 926 917 7470 Email: info@aquasymterra.ru
Order from Israel:
Card Deck set: English, Hebrew, Arabic, Turkish, Greek
Tel: +972 (09) 9511991 Email: tamaremf@yahoo.com