Infinity Express – Music CD
Available only as MP3 Download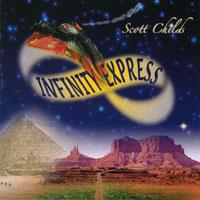 Listen to the beautiful lyrics and soulful musical compositions of the "Infinity Express" CD, created by Scott Childs and inspired by the EMF Balancing Technique.
Experience music that blends history, Now time and potential into a deeply felt, extremely positive listening experience. Scott is accompanied by several world class musicians on this CD, which is dedicated to Peggy Phoenix Dubro and the EMF Balancing Technique.
Scott Childs is a talented singer-songwriter and EMF Balancing Technique practitioner and teacher. Scott wrote the songs contained on this CD following many years of exploring a diverse musical, professional and spiritual path.
1. I Hear You Calling 4:38
2. I Remember I Am 4:08
3. Breathe in the Now 3:25
4. Infinity Express 5:08
5. Abiquiu 5:07
6. Mobius Strip 4:41
7. Frozen 7:03
8. Violet Fire 3:53
9. Give Us Peace 4:20
10. The Dream of Love 6:18
11. Spirit 5:06
12. Walk on Home 3:42
Listen to samples:
1. I Hear You Calling


2. I Remember I Am

3. Breathe in the Now

4. Infinity Express

5. Abiquiu

6. Mobius Strip

7. Frozen

8. Violet Fire

9. Give Us Peace

10. The Dream of Love

11. Spirit

12. Walk on Home

Lyrics, Vocals & Acoustic Guitar: Scott Childs
Featured Musicians: Jeff Pevar, Guy DeVito, Scott Allshouse, Dana Pomfret, Stuart Getz, Joe Grieco, Rob Gottfried, Crystal Kachulis.
© 2010 The Energy Extension, Inc. All rights reserved.
To order & download: The Symbol Worldwide Store
Artists Biographies:
Jeff Pevar has performed or recorded with many notables in the music business including: Ray Charles, James Taylor, Donald Fagen, David Crosby and Graham Nash, Joe Cocker, Rickie Lee Jones, Jackson Browne, the Grateful Dead's bassist ensemble -Phil Lesh and friends, as well as many others. Jeff also has his own band, and is partners in the band CPR, which also features David Crosby and his son James Raymond.
Guy DeVito is a freelance bassist who in 1969 was a founding member of the rock group FAT. During his twelve-year tenure he recorded for RCA, Atlantic and their own Dream Merchant Records. He has since performed and recorded with many artists in diverse musical styles from jingles to jazz, to John Kay and Steppenwolf.
Scott Allshouse is a graduate of the Berklee College of Music. Since 1996 he has been the drummer with Max Creek. He was a member of the group Mystery Feet and recorded on their debut album. He also works as a freelance audio engineer doing everything from mixing live music to live television broadcast events.
Dana Pomfret is a singer-songwriter from NYC, now living among trees in New England. She has recorded her original music for both Elektra and SBK Records. Dana's second disc, 'Soul Collage,' features shining guest performances by rock legends David Crosby and Graham Nash, guitar wizardry by co-producer Jeff Pevar, vocal fire by Martin Sexton & the singing bass of François Moutin.
Stuart Getz is a singer-songwriter with over 20 years in the business. He has toured with and offered his backing vocal talents to such outstanding artists as Roberta Flack and Phoebe Snow as well as singing commercial jingles and working in rock video production.
Joe Grieco has played and recorded with the likes of Al Anderson of NRBQ, Rex Fowler of Aztec Two Step, RCA recording artists Silverado and Phoebe Snow. He has written and performed music for a vast number of nationally televised commercials and corporate video presentations. He is also a founding member of the band, The Cartells.
Rob Gottfried is "Rob the Drummer", a Jazz-Rock recording-performing artist, private percussion instructor, and motivational educator. Rob is also a children's motivational educator, ROB THE DRUMMER, having appeared on Sesame Street, Romper Room, MTV, the Nickelodeon Network, Kid's World, etc.
Crystal Kachulis has been a professional vocalist for over 10 years, with experience that includes recording, fronting successful bands on the Las Vegas Strip and National Tours of Broadway productions.
Scott Childs is a singer-songwriter and EMF Balancing Technique practitioner and teacher. Scott wrote the songs contained on this CD following many years of exploring a diverse musical, professional and spiritual path, Scott has been blessed with the privilege of recording with this talented and wonderful group of musicians – an honor indeed