Workshop: Five Elements UCL® Tai Ji
Working with Children
Guest Lecturer: Andieas D. Hofmann – Tai Ji Master
The Five Elements UCL® Tai Ji sequence is a playful approach to the moving art of Tai Ji, as well as to the energetic posture of 'Radiating Core Energy', a main concept of the work with the Universal Calibration Lattice® (UCL).
This form is easy, short and fun to learn, making it a highly effective tool for working with children in the age group of 7-12 years. The Five Elements UCL® Tai Ji images and gestures are universal and profoundly inspirational.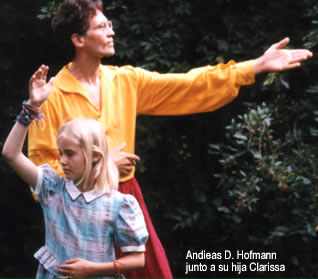 In the second part of the workshop we will practice the Tai Ji gestures in partner exercises. This is especially helpful when working with older children of 13-18 years. All participants have the opportunity to experience a true interaction, making UCL® Tai Ji applicable to the interaction of daily life. New social abilities can be developed in a safe space and in an explicit way.
These partner exercises train the skills of interaction and communication in a very special quality, the energy of love.
In the partner exercises we will practice:
Mindful listening – following the partner, and mindful responding – leading the partner
Maintaining balance, self-worth, stability, and respecting the self-worth of the partner
Participation in interaction
Creating harmony and experiencing concerted movements together.
Working with The Lattice™ as you practice the Five Elements UCL® Tai Ji form, you directly experience your Center Below ("Earth") and Center Above ("Heaven"). The Tai Ji movements activate the flow and interchange of the Higher Energies with the Earth Energies. This enhances the radiation of your Core Energy as expressed in the Tai Ji movement of the Fire element.
The Tai Ji sequence continues with the phase of Water – receiving back energy. Fire and Water together in harmony build a perfect composition of Yin and Yang. Applied to life this would mean the balance of "giving" energy and "receiving" energy.
The following phase of Wood – Wind shows the power to grow and expand. The next character of Metal is a perfect gesture for centering after the reaching out in the phase of Wood–Wind. Metal represents the inner clarity of discernment and the process of crystallization, giving you structure and refining the essence of your experiences. So the phase of Metal includes its transformation into Gold. This leads to the last phase of the cycle, the Earth element. The golden crystal is given back to the mother of all the elements. The Earth phase, residing in the center of the elements, is the harmonious balance and fusion of all the different characters. Earth means integration, completion and realization – by practicing the attributes of mastery in your daily life.
Andieas Danata's passion is to bring the ancient moving-art and Taoist philosophy of Tai Ji into the evolving New Energy and Consciousness of our time. Born in Germany in 1954, he has taught Heart & Spirit-Tai Ji and Qi Gong for 27 years. He started Tai Ji with the authentic Yang-Style and then moved to Living Tao-Tai Ji. He has also done many Tai Ji-dance-performances, including a role in the show "Dream-journey for the Soul". He also gives private sessions and EMF Balancing Technique® sessions. Andieas has studied sociology and psychology, writing two diploma theses about Tai Ji. He has three grown children, and currently lives in Switzerland. www.taijihearts.com