Realitātes robežu paplašināšana
Uzmanību:
1. Lai noskatītos šo video, nepieciešams Adobe Flash Player.
Lejuplādēt bezmaksas Adobe Flash Player
2. Video ir jāļauj pilnībā ielādēties, lai izvairītos no pauzēm noskatīšanās laikā.
3. Lēna vai iezvansavienojuma gadījumā video lejuplādēšana var prasīt vairākas minūtes.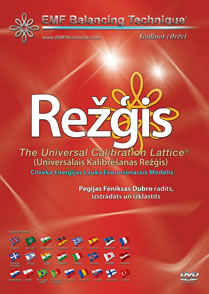 Ideju izstrādājusi un tekstu ierunājusi
Pegija Fēniksa Dubro
The Universal Calibration Lattice®
Cilvēka enerģijas lauka evolucionārs modelis
Enerģijas ievadseanss
Noskatieties 3-D filmas par Universal Calibration Lattice (UCL) jeb Universālo kalibrēšanas režģi – sistēmu cilvēka enerģētiskās anatomijas ietvaros, kas sastāv no gaismas un enerģijas šķiedrām. Apgūstiet EMF enerģijas ievadseansu.
Subtitri: English, العربية, Български, Deutsch, Eesti keel, Ελληνικά, Español, Français, Français canadien, עִבְרִית, Hindi, íslenska, Italiano, 日本語, Latviešu valoda, Magyar, Nederlands, Português (Brasil), Português (Portugal), Română, Русский, Slovak, Suomi, Türkçe
Šajā DVD ietverta vērtīga informācija un pieredze katram, kas izvēlējies personīgās izaugsmes un evolūcijas ceļu.
Sāksim strādāt ar The Lattice!™ (režģi!) - Pirmā filma
Gaismas un enerģijas šķiedras - Otrā filma
Svētie šabloni - Trešā filma
Pegija Fēniksa Dubro - Strādā ar režģi!
EMF Balancing Technique® enerģijas ievadseanss
Pegija Fēniksa Dubro - Noslēdzošie komentāri
DVD ilgums: 37 min.
Pegija Fēniksa Dubro ir autore mācībai par EMF Balancing Technique®. Kopā ar dzīvesbiedru Stīvenu viņa ir nodibinājusi starptautisku organizāciju Energy Extension, Inc., kas apvieno pārstāvjus no vairāk kā 70 valstīm. Kopš UCL atklāšanas 1988. gadā Pegija ir metodiski attīstījusi izpratni par šo cilvēka enerģētiskās anatomijas ietvaros esošo sistēmu, un tas ir padarījis viņu par pasaules mēroga autoritāti šajā jautājumā.
For orders in Latvia contact:
Uldis Vidzus
Tel: +371 26401404
E-pasts: uldisvidzus@inbox.lv
Cena: 22.00 Euro plus pasta izdevumi