Zet je Realiteit in een nieuw kader
Let op:
1. Om deze video te kunnen bekijken, moet Adobe Flash Player zijn geïnstalleerd.
Download gratis Adobe Flash Player
2. De video moet eerst in zijn geheel een keer zijn ingelezen, voordat hij zonder haperen kan afspelen.
3. On a low speed/dial-up connection, the video may take up to a few minutes to download and start playing.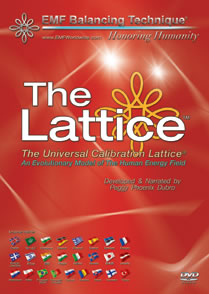 Ontwikkeld & Verteld door
Peggy Phoenix Dubro
Het Universal Calibration Lattice®
Een evolutief model van het menselijke energieveld
Introductie Energie Sessie
Bekijk de driedimensionale animatie van het Universal Calibration Lattice (UCL) (Universeel Balancerings Netwerk), een systeem binnen de menselijke energie anatomie, samengesteld uit vezels van licht en energie. Leer de EMF Introductie Energie Sessie te doen.
Ondertitels: English, العربية, Български, Deutsch, Eesti keel, Ελληνικά, Español, Français, Français canadien, עִבְרִית, Hindi, íslenska, Italiano, 日本語, Latviešu valoda, Magyar, Nederlands, Português (Brasil), Português (Portugal), Română, Русский, Slovak, Suomi, Türkçe
Deze DVD bevat belangrijke informatie en ervaring voor iedereen in het proces van persoonlijke groei en evolutie.
Welkom bij The Lattice!™ - Eerste Animatie
Vezels van Licht en Energie - Tweede Animatie
Sacrale Patronen - Derde Animatie
Peggy Phoenix Dubro - Werken met het Netwerk!
EMF Balancing Technique® Introductie Energie Sessie
Peggy Phoenix Dubro - Afsluiten commentaren
DVD Run Time: 37 minuten
Peggy Phoenix Dubro is de ontwikkelaar van de EMF Balancing Technique® (EMF Balancerings Techniek). Samen met haar echtgenoot Stephen is zij mede-oprichter van de Energy Extension, Inc., een internationale organisatie met vertegenwoordigers in meer dan 70 landen. Sinds haar ontdekking van het UCL in 1988, heeft Peggy methodisch een uniek inzicht in dit systeem binnen de menselijke energieanatomie ontwikkeld, wat haar 's werelds belangrijkste autoriteit op het gebied van deze informatie maakt.
Voor opdrachten neemt u contact op met het EEI kantoor in Duitsland – Tel: +49 (0) 9547 92 15 91 Email: office@emfbalance.de
Prijs: 22.00 Euro plus S & H