Treino de Crescimento Pessoal Yoga para The Lattice™ / A Malha
Professores: Peggy Phoenix Dubro & Instrutores de Yoga para The Lattice™ / A Malha
A Evolução do Sistema de Chacras!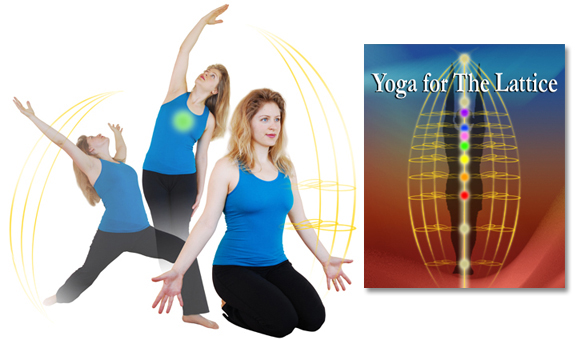 Duração: 1 dia intensivo ou 2 dias
Pré-requisitos: Nenhum – aberto ao público
Este curso é aberto a todos como uma experiência de crescimento pessoal. Caracteriza uma série projectada exclusivamente para Posturas e Respirações de Yoga tradicional, de fáceis a moderadas, que focam a consciência em áreas específicas da Malha. Os 13 segmentos do Yoga para a Malha compõem-se de 19 Posturas de Yoga tradicional combinadas em séries de 47 Posturas. A sequência completa de Yoga para a Malha é paralela à Fase XIII da EMF Balancing Technique.
Esta formação introduz e explora a Malha de Calibração Universal (UCL), um sistema organizado de energia irradiando do sistema de chacras. As partes teóricas do curso de crescimento pessoal abordam a teoria da Malha relacionando a evolução do sistema de chacars com as fitas invisíveis do ADN. É um belíssimo Alinhamento de Graça Dourada.
Esta formação combina posturas de yoga e técnicas de respiração com uma compreensão contemporânea da anatomia energética humana. A Malha, intimamente relacionada e irradiando do sistema de chacras, proporciona evidências para apoiar o crescimento da consciência de que somos capazes na evolução consciente, quer individual, quer colectivamente.
Irá experimentar a energia da sua própria Malha enquanto:
Explorar novos chacras e os seus significados
Fortalecer a energia do amor e da sabedoria no seu corpo, pensamento e espírito
Compreender como este processo evolucionário vos assiste no domínio dos ensinamentos na roda Kármica da vida
Receber um único alinhamento meditação/energia, aprendendo como trabalhar com a energia da kundalini que começa no chacra entre os vossos pés
Somos capazes de evolução consciente, quer individual, quer coletivamente!
This photo gallery requires a later version of Adobe Flash Player than the one installed in your browser.
So if you'd like to see this gallery, please download the latest version of Flash Player.

Peggy Phoenix Dubro é uma professora internacional e uma líder respeitada no campo do trabalho energético. Ela recebeu Shaktipat de Swami Muktananda em 1978 e continuou a estudar na tradição Siddha Yoga. O treino de Yoga para a Lattice/Malha foi criado a pedido de Sivananda Yoga Ashram, depois de Peggy, durante uma apresentação da teoria da Malha/Lattice, ter proposto que o sistema de chacras evoluira. Peggy descobriu a Lattice/Malha em 1988, numa profunda experiência de elevado estado de consciência. No período dos 22 anos seguintes, ela completou o desenvolvimento da EMF Balancing Technique®- Técnica de Equilíbrio do Campo Electromagnético, um corpo de trabalho multifacetado, que é a forma clássica de trabalho energético designada para trabalhar com a UCL. A informação sobre a Lattice™/Malha e a EMF Balancing Technique – Técnica de Equilíbrio do Campo Electromagnético estão a emergir como compreensões criadoras no campo da psicologia energética. Esta compreensão contemporânea do sistema de chacras tem sido ensinada e abraçada em mais de 70 países ao redor do mundo.
Lista de Instrutores de Yoga para The Lattice™ »
View Peggy Phoenix Dubro's Detailed Schedule »