Atelier des Reflets & Formation de Facilitateur
Canaliser l'énergie de la grâce et de l'entièreté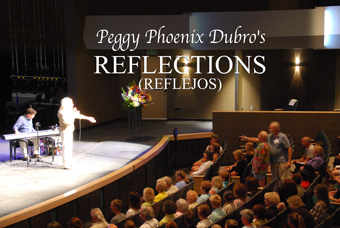 Enseignants : Peggy Phoenix Dubro & Enseignants des Reflets
Durée : 2 jours ou 1 jour intensif
Prérequis : Aucun – ouvert à tout public
A ce jour, plus de 1000 personnes autour du monde ont suivi la formation de facilitateur des Reflets!
Intention et Vision
Le nouveau travail passionnant de Peggy Phoenix Dubro, créatrice de l'EMF Balancing Technique au niveau international.
Apprenez comment utiliser ces sessions pour vous-même et comment la donner aux autres, lors d'une journée intensive pleine de joie. Vous pouvez ajouter ce nouvel outil à tout travail que vous faites déjà actuellement, ou commencer à construire une pratique pour assister les autres à réaliser leur potentiel.
Ces sessions d'une heure offrent une approche unique à la reconnaissance de l'énergie personnelle, combinée à des alignements énergétiques pour assister chaque personne vers la manifestation des changements et des intentions qu'elles choisissent en tant qu'être humain en évolution. Nous nous éveillons à une capacité de penser et d'agir de façon "quantique" dans la nouvelle énergie. Avec concentration et clarté, vous transformerez l'énergie de vos intentions en l'énergie de la création consciente.
Ce travail est conçu pour accroître l'intelligence de votre cœur!!
À quoi vous attendre lors d'une session des Reflets?
Concentration Nous commençons par l'ouverture, avec une déclaration de l'intention de votre choix. Cela établit la résonance pour votre session, qui focalise et amplifie votre capacité à manifester votre intention et des potentiels nouveaux et surprenants. Votre énergie répond à la résonance des Reflets en accord avec votre sagesse intérieure.
Alignement La cohérence centrée sur le cœur que nous partageons ensemble dans cette session énergétique génère les alignements énergétiques appropriés de support, alors que vous vous ouvrez à la connaissance d'être davantage qui vous êtes dans une énergie profonde et équilibrée de sagesse et d'amour.
Choix D'une perspective quantique, vous verrez plus clairement comment vous utilisez votre énergie. Ce point de vue vous permettra de faire passer l'énergie des actions qui ne vous servent plus vers des actions que vous préférez renforcer. Co-créez avec une plus grande liberté.
Être À la fin de la session, vous rayonnez l'énergie depuis une place de calme profond, à partir du centre de votre être, en amplifiant un état quantique de grâce.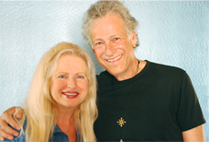 Peggy Phoenix Dubro est un conférencière internationale reconnue et une enseignante dont les divers talents lui confèrent une présence mondiale dans le domaine de la « nouvelle pensée ». Elle a 30 ans d'expérience dans son travail avec l'anatomie énergétique humaine et elle est une des chef de file dans le domaine de l'harmonisation énergétique. Co-fondatrice, avec son mari, de The Energy Extension, Inc. en 1995, Peggy and Steve forment une équipe qui crée une technologie de pointe dans le domaine de l'harmonisation énergétique, qui est à la fois amusante et profondément transformatrice. Leur travail est pratiqué et enseigné dans plus de 70 pays dans le monde.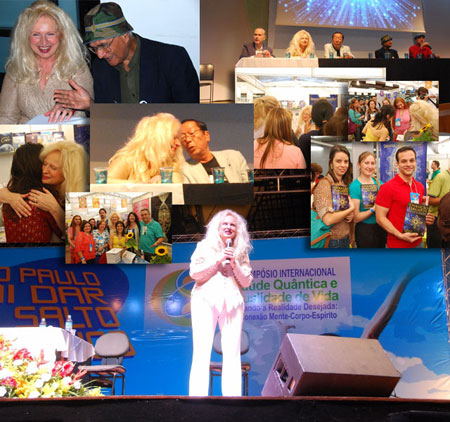 "We were very happy with the presence of Peggy at the Symposium. Her work touched people's hearts, and ishe again will be part of the Symposium."
Wallace Liimaa – Noetic Sciences award winner, founder and organizer of the I, II and III International Symposium on Quantum Health and Quality of Life in Brazil.
"Peggy voit l'humanité différemment de la plupart des personnes… elle vous regarde sans jugement, et elle regarde les autres enseignants et les autres techniques énergétiques sans jugement, parce qu'elle comprend l'intégrité et l'intention qui vient du cœur. Et ainsi, ce n'est pas un accident si cette enseignante profonde est ici aujourd'hui sur la planète."
Lee Carroll – Auteur de la série Kryeon
"Depuis plus de 20 ans, l'enseignante Peggy Phoenix Dubro a reçu de l'information sur une technique profonde appelée EMF Balancing. Maintenant, l'enseignante devient en fait le processus, et son ADN se transforme en conséquence. Elle est le seul être humain sur la planète a absorber complétement l'impact de ce que l'EMF enseigne… à 100%. Cela signifie qu'elle peut maintenant refléter la compassion de l'Humanité d'une façon unique, et créer une canalisation qui englobe l'énergie complète qu'un vrai maître aurait. Son portail d'ADN s'ouvre… à cette nouvelle expansion, les Reflets… et plus!"
KRYON ~ 2012, canalisé par Lee Carroll
Le travail innovatif de Peggy avec le champ énergétique de toute vie nous mène à une place en nous-mêmes où l'amour, la guérison et la paix commencent. Ses techniques sont pratiques, efficaces et elles marchent!
Gregg Braden – Auteur de L'effet Isaïe, Le Code de Dieu, La Matrice Divine
"En terminant ma session de Reflets avec Peggy, je me suis sentie heureuse, équilibrée, et remplie de prises de conscience sur ma propre capacité à créer ma vie avec plus de choix."
"La capacité de Peggy pour clarifier les intentions est comme un laser, et elle est remplie d'amour."
"Elle amplifie votre capacité à être conscient de votre énergie, et comment l'utiliser avec clarté et focalisation."
"Les Reflets sont vraiment magnifiques!"